Rossville is a rural community with a population of 1,653. We are located at the intersection of State Roads 26 and 39 in the northwest corner of Clinton County. The Town is within short driving distances of Lafayette, Frankfort, Delphi, Kokomo, and Indianapolis, which allows area residents easy access to employment, entertainment, education, and health care services.
By visiting the various links on our website, you will realize that — "The Town of Rossville is truly a place where you can feel at home."
Visit us on Facebook for town updates, trash pickup alerts, pictures, sporting events, callouts, and much more!
Rossville News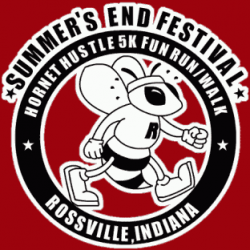 Join us for the Hornet Hustle 5K Fun Run/Walk during this year's Summer's End Festival, Friday, August 26, 2022.  The start/finish of the race will be at the Town Park Pavilion , Rossville, Indiana.  You can register for $25 at HornetHustle.com through August 23rd or $30 cash the day of the race!  We look forward to seeing you there!
Our Recent Facebook Posts