Emergency: 911
Non-Emergency: 765-379-2998
Volunteer Ambulance Service
P.O. Box 50
50 E. North St.
Rossville, IN 46065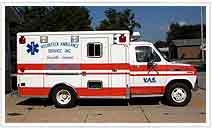 Our Vision:  Rossville Volunteer Ambulance Service is committed to saving lives and alleviations suffering, providing around the clock care with compassion and integrity, making our community a better place.
Our Mission:  Rossville Volunteer Ambulance Service provides high quality emergency prehospital care and support to Rossville and the surrounding communities.
Our Core Values: 
Integrity – We adhere to moral and ethical principles in the service to our community.
Commitment – We promise a self-sacrificing dedication, loyalty, and excellent care to those we serve.
Compassion – We want to help our community who are sick, injured, or in need of the services we provide.
Responsibility – We are professional stewards of the trust placed in us by the community we service.
Help support your local volunteer ambulance service.  We invite each member of your family to become members of the Volunteer Ambulance Service, Inc.  The cost is $10.00 per person.  We also welcome any additional monetary support you can provide to help fund our operation.  Any donations are tax deductible.
There are several volunteer opportunities that give you an avenue to give back to the community through your service.  Our EMTs, drivers, and board members are all volunteers.  Let us know if you are interested in helping.
In 1973, residents of the Rossville community started discussions leading to the organization of the Volunteer Ambulance Service on January 7, 1974. V.A.S. was one of the first volunteer ambulance services certified by the Indiana Emergency Medical Services Commission. Residents from Ross and Owen Townships of Clinton County, plus adjoining areas, became actively involved with V.A.S. by contributing their time as EMT's (Emergency Medical Technicians) and by constructing the headquarters building. The community also made generous financial contributions toward the construction of the new building and towards the purchase of a new ambulance. Leo Brown of Brown Funeral Home also donated an ambulance.
Eighty-four EMT's were trained in the first two EMT classes held in Rossville in 1974. Over 200 EMT's have received their training in the V.A.S sponsored EMT certification classes.
V.A.S. receives financial support from Clinton and Carroll Counties, V.A.S. membership dues, annual pork chop supper, individual contributions, and memorial contributions. V.A.S. purchases ambulances, radios, supplies, insurance, maintenance expenses, and training costs from these funds. All of the EMT's, First Responders, and drivers are volunteers and receive no compensation for the many hours they devote to the V.A.S.
V.A.S. serves the Rossville community 24 hours a day, 365 days a year. We encourage you to contact any EMT to learn how you to can help provide emergency care for your friends, family, and neighbors. Anyone wishing to learn more on how to be a part of the V.A.S., can contact our business number at 765-379-2998 and leave a message. We need daytime help very badly. Our goal is to try and have the best up to date equipment and to have a response time of less than 10 minutes to all parts of our response area at all times.
At the present time the V.A.S. has two ambulances for calls at all times. Rossville Unit 15-2 is a 1994 Ford/Wheeled Coach ambulance. Our newest ambulance Unit 15-1 is a 2001 Ford/AEV ambulance. We staff these two units with volunteer crews of dedicated men and women who carry pagers/radios to alert them to a call. They respond from their homes or places of business to the V.A.S. headquarters building to get the ambulance and respond to the call. The V.A.S. current roster has about 15 active volunteers. Volunteers are always needed.
Since 1973 the Rossville Volunteer Ambulance Service has been a very valuable part of the Rossville community. Your participation is welcome and greatly encouraged.