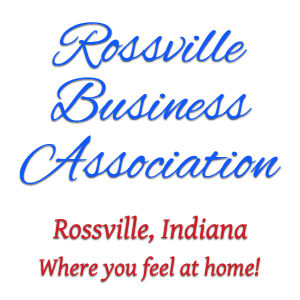 The Rossville Business Association would like to take this opportunity to invite you to join the Association to serve your community and make Rossville a better place to live and work.  Anyone can participate in the Association regardless of whether you have a business or not and just want to become involved in promoting the Town of Rossville.  One of our biggest projects is the annual Summer's End Festival.  The Association also sponsors a baseball team in Rossville Baseball Summer Rec League.  Each year two scholarships are presented to graduating seniors at the Rossville High School  furthering their education in the business field.  Monetary support is also given to the Rossville Middle/High School Academic Banquet, Rossville Food Pantry, Milner Health Care Christmas Fund for residents, the Rossville Town Park, COACH Kids of Clinton County, and the Christmas decorations along State Roads 26 and 39.
If you are a business or individual located in the within the Rossville School District and would like to become a member of the Rossville Business Association, please fill out the Attached Form.  The Association meet at 12:00 p.m. on the third Tuesday of each month at the Rossville Town Park Pavilion.  A light meal is provided.  Each month you will receive a meeting reminder via email.  If you are not able to attend the monthly meetings, minutes from the meeting will also sent via email.
Members of the Business Association have the opportunity to advertise on the Town of Rossville web page.  The start-up fee for each business is $35.00.  After the first year, the cost is $5.00 per business to maintain your spot on the web page.  Please indicate on the Attached Form if you would like to initiate advertising and include this fee with your membership dues.
Minutes from previous meetings are attached below:
February 23, 2021
March 16, 2021
April 20, 2021
May 18, 2021
June 15, 2021
July 20, 2021
August 10, 2021
August 24, 2021
September 21, 2021
October 19, 2021
November 16, 2021
January 22, 2022
March 15, 2022
April 19, 2022
May 17, 2022
June 21, 2022
July 19, 2022
August 9, 2022
September 20, 2022
October 18, 2022
November 15, 2022
January 17, 2023
February 21, 2023
March 21, 2023
April 18, 2023
May 16, 2023
June 20, 2023
August 8, 2023
August 22, 2023
September 19, 2023
October 17, 2023
November 21, 2023